We stayed with David and Karen in 2008, and not only found the house location wonderful, but the hospitality was second to none. Our hosts were only too pleased to show us around the area, which made our one weeks holiday an absolute pleasure, we would not hesitate to recommend this location to anyone.
Neil and Sally Merry Somerset.
We wanted to escape from the Rat Race of the UK and spent the most wonderful week at Sunnyvilla in July. If you think that Spain is all about English pubs, high rise hotels and construction sites then think again! Sunnyvilla is situated in one of the most beautiful locations in Europe, the scenery from the villa is simply breathtaking and the villa itself is paradise! For those of you who crave complete relaxation, this is the place for you! Close enough to the airport to not take forever to get to your final holiday destination and the main towns on the coast and far enough away to be a sanctuary of tranquility, complete with your very own and very private pool.
We can't wait to go back, thank you Sunnyvilla for a wonderful time!
Ronnie and Fiona Desmond Hertfordshire
When It came to a Villa Holiday in Andalucía, this Summer, I had no difficulties in deciding, and David's Villa was the first choice. When we communicated with David before we arrived, he more than ticked the boxes. David's warmth and readiness to assist in countless ways including vehicle hire , receiving guests at airport , tour guide, assisting with settling in , shopping etc; has made Holiday guests hosting a fine art .
The Villa location, with panoramic views of the surrounding hills and valleys is a breath taking sight to see and enjoy, and the swimming pool has the "wow" factor for long hours of fun in the water for young and old.
The Location has easy access to the seaside resorts of Malaga and Marbella and the heart of Andalucía and also for those interested in Moorish History and culture.
The Villa has all amenities; comfortable rooms, which are welcoming, and a cool breeze blows across the open Balcony which takes the heat off the midday sun.
The local Village of Guaro is well worth a visit, and is of classic Moorish architecture with narrow streets and tidy quaint houses..
David is always on call and attentive to clients needs and will go out of his way to ensure guest satisfaction, and this makes the difference between just another Holiday and a memorable one!.
No doubt we will return to savour the Salubrious Villa and David's Hospitality.
Best Wishes to a Wonderful Host.
Dr M A Asver, Mrs R A Asver and Family Surrey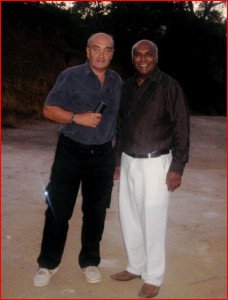 Alan and Rebbecca Dickinson July 2010
"I can only say how fantastic the house is it lived up to all our expectations.
We First met our host and guide David at the airport who arranged to meet us and take us to the house. {a nice touch after a tearful easy jet delay of 4 hours) David asked me to send him a shopping list and went to the supermarket and stocked our fridge for us How about that for service. The location is truly rural Spain so we recommend a car although David is always on hand if you need to go anywhere. David speaks great Spanish and is so knowledgeable of the local and surrounding areas he is like your own personal guide and great company. we will certainly remain friends and stay in touch. We would recommend this house if you want peace and quite in a great central location only 15 minutes walk from the village of Guaro and within easy reach of Gibraltar and Marbella and many more interesting places. We will Certainly return again. FANTASTIC !!!!!
Alan Dickinson and family "
Mark Dixon and family August 2010
"I spent a most enjoyable week at the Villa with 8 of my friends, the location is stunningly beautiful and David, our host was extremely friendly and assisted so much with local information and helped point us in the right direction. The villa was well equipped and the barbecue on the front terrace was well used, the pool was brilliant giving you panaromic views of the surrounding countryside. There was ample space for the 9 of us and we had a marvelous time, an unforgettable expereince. Thank you David for making our time in Spain so good."
Value: Excellent , Met expectations: Exceeded them , Recommend: Definitely , Overall: Excellent
Mark Dixon and family