Monda Castle
In 45BC, the Roman civil war, which had been raging between the forces of Pompeii and those of Julius Caesar, was brought to an end in Caesar's favour at the Battle of Munda. The site of the Roman Spanish town of Munda is open to some doubt, but there are those, not least the inhabitants of Monda itself, who look at the similarity of names and declare that Munda and Monda are one and the same.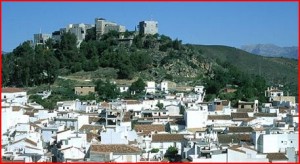 It is a tiny town with a population of less than two thousand, beyond Ojén along the C-337 road, and only about 5 kilometers away from Guaro. Crouching in a mountain valley at a height of 1200ft. A few years ago it was a much-favoured drop-out spot for hippies without the inclination or energy to reach Marrakech or India. These have now largely disappeared and left Monda to its own devices, perhaps because the recently built road linking it to Marbella, and the rapidly developing suburbs have made it too accessible and bourgeois. It is also difficult to imagine that only a few years ago during the Spanish civil war between 1936 and 1939 as a run up to the second world war, Spanish right wing rebellionists were fighting left wing republicans. This meant that like any civil war, neighbbours and friends from Monda would be attacking their opposite numbers in Guaro. and vice versa. It would be common knowledge that a pro Franco supporter would not attack an anti Franco republican in his own village, so they would attack the opposition in another neighbouring village, so as not to destroy their own neighbourhood where they grew up. Like any civil war this is a part of Spanish history that the older generation would rather forget.


Monda Castle is rich with history, and was occupied by the Moors for many years, but fell into disrepair until 1974 when it was purchased by a German aristocrat, who worked vigorously on turning it into a stylish home for himself and his family, however he soon got tired of the Spanish Bureaucracy and sold it to a couple of British entrepreneurs who finished the work and turned it into a beautiful hotel. It has since been sold to a local Spanish family, who continue to run the hotel to this day. It is a fantastic venue for wedding celebrations, and has a garden which can only be described as a miniature version of the "Alhambra". It is well worth a visit either just for a coffee in the gardens to admire the building and the views, or a lovely meal in the restaurant.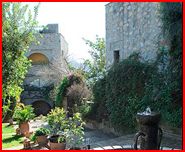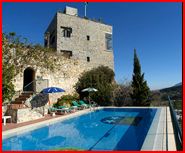 When we first moved to this area of southern Spain we knew very little about the local area and its history, except of course of the very famous Rock of Gibraltar (more about that in a moment). What we didnt know at the time was about an area called "El Chorro" or "Alora" the lakes; and the dams. We also learnt that it was within this area that the now very famous second world war film "Von Ryan's Express" starring Frank Sinatra was filmed. The first time we drove from our new Villa to the area we now know as "The Lakes" we were stunned by its natural beauty, and the way that a lot of local Spanish people use this area as a weekend retreat. It soon became obvious to us that we would enjoy this area so much with our children, that we would come here most weekends with our family & friends for fun. This included swimming in the lake, eating in the local restaurants or "Ventas" and exploring the old ruins of dams, and a once thriving hydro electric system, known as the "Bobastro" a man made lake on top of a mountain (Yes a lake on the top of a mountain, not in a valley) which looks down over the town of El Chorro, and the entire surrounding "Guadalhorce" valley, including the new high speed train the "AVE" which is Spanish for "bird" and literally flies from Malaga to Madrid in approximately 3 hours.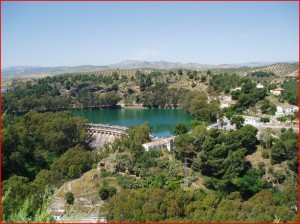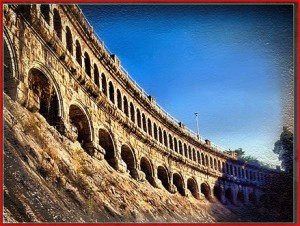 The main "Guadalhorce Dam was built in 1921 and dams the Guadelhorce river which flows through the Guadelhorce valley, once a vast Ice flow which gouged its way from the mountains down to the coast where Malaga now lies. The dam and its subsequent lakes supply the entire Malaga region with its drinking water, and some of its power generated by a small hydro electric power system lower down at El Chorro. This area is incredibly rich in History, and the now Famous "Camino Del Ray" or Kings road was built between 1901 and 1905 so that the workers building the Hydro Electric power station could get from one side of the gorge to the other. It was officially opened by the then Spanish King: "King Alfonso X111" in 1921. It has fallen into dis repair, but the local government is raising funds to repair the walkaway for tourists, and should be open in its entirety in 2012. However it is possible to walk a part of it now, and is mainly used by experienced rock climbers.
There are many activities available up at the lakes for young and old, Canoeing; sailing; swimming; hiking; adventuring: (you must walk through the man made construction tunnel, unless of course you are claustrophobic of course).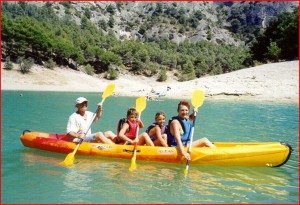 Gibraltar
The rock of Gibraltar is literally about 50 minutes drive away from the house. The history here is phenomenal, from the second world war way back to the building of the siege tunnels by then ordinary soldiers who today are known as the "Royal Engineers". Its all got to be seen, and I can personally recommend the taxi drivers who wait for the tourists just the other side of the border to take you up to the top of the rock to see the famous monkeys and the spectacular views. They really do know their history and are very proud to be born Gibraltarians. Gibraltar fascinates me as its the only airport I know which has traffic lights on the main runway so that cars and pedestrians can cross safely. I have a soft spot in my heart for Gibraltar, as it was where my dearest friend "Sydney Knowles" served in the second world war with the now famous Lionel "Buster" Crabb the Royal Navy's diver who mysteriously disappeared just after the war in suspicious circumstances. Now that is another story that I can tell you if you come to stay with us. Sydney has just written his memoirs in a book called "A diver in the dark" and can be purchased through his publishers "Woodfield publishing" Click on the link it will take you straight to the book. He is the most fascinating man I have ever met, and still lives today in Coin near to our villa.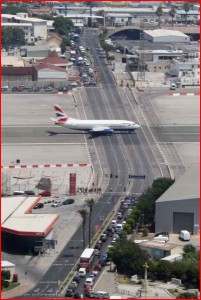 Gibraltar is one of those places that is a necessity to visit whilst in the area, as the history stems back thousands of years and has been invaded by literally everyone! (except my aunt Beatrice, she was always too busy shouting at my uncle). I love to look these places up on the internet, and find out about their history. Did you know that the "Rock of Gibraltar" is actually upside down? This is why the rock itself is so soft, and was fairly easy for the British soldiers to carve out literally dozens of miles of tunnels, which are known as the siege tunnels. Going back further into its history, southern Spain and Northern Africa were joined together along what is now known as the Gibraltar straight. when the land finally ripped apart, the Atlantic ocean rushed in forming a waterfall, which lasted for over 6,000 years and literally filled up what is now the Mediterranean sea. During the second world war, it was an incredibly important and strategic location for the British and American warships who were supplying equipment to North Africa. It was here that Commander "Lionel Buster Crabb" and his diving buddy "Sydney Knowles" and their team of divers removed underwater mines from shipping in the harbour, placed there by the Italians who hid in a house across the bay. This story is told by the film "The silent Enemy" which starred Laurence Harvey as Commander Crabb, and Sid James as Chief petty officer Thorpe, and Michael Craig who played the part of our good friend Leading seaman Knowles. Sidney Knowles has told us on may occasions that Sid James was not very pleasant to work with, which is a shame really as we came to love him in the carry on series.
The beautiful Spanish town of Ronda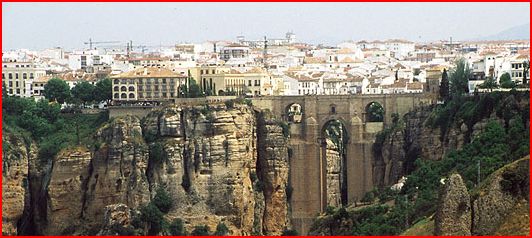 Another very popular and busy village to visit whilst in the area is "Ronda" (don't get this confused with "Monda" as they are different places altogether) Ronda is famous for its incredibly tall bridge which links both parts of the village across a very deep gorge. (approximately 200 feet) Its well worth seeing, but please be careful when taking photographs of the gorge and the bridge as many tourists have fallen to their demise!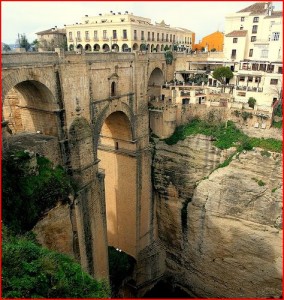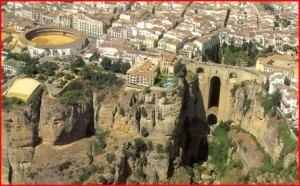 The village is a lovely little Spanish pueblo, and has a market and many shops and restaurants it is really a pleasant day out, and literally no more than an hours drive from our Villa. Simply drive to Marbella, head towards Gibraltar (that's west), drive through Marbella until you arrive in San Pedro De Alcantara, where you turn right inland (there is work currently being done on the junction, as they are going to build an underpass) you will see a sign to Ronda, then just follow that road over the top of the motorway, and continue on into the mountains until you reach Ronda!
Malaga
It absolutely amazes me that thousands upon thousands of tourists flock to southern Spain every year (even through the recession) yet very few of them bother to have a wonder around Malaga itself! all they normally see is the airport, and the inside of a taxi or tour bus as they leave the city! Yet the city has so much to offer, and is a beautiful part of Spain with its own incredible history.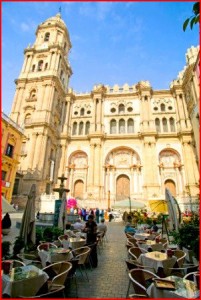 The main road into the city is called "Avenida de Andalucia" pretty self explanatory really, Andalucia Avenue, this leads straight through the city, and eventually past the new city into the old part of the city, where they decorate the whole Avenue with Christmas decorations for the festive period. At the end of this Avenue lies Plaza de Pablo Picasso, which is essentially a roundabout with a beautiful water fountain in the middle. It is from this point of the city that you can look up to the old Moorish fort, which believe it or not was overcome by the Christians, even though it looks impenetrable!! It is here that you can start a walkabout tour taking in the Cathedral (pictured left) Where as you can see there is a fantastic little square in front where you can enjoy lunch. (this is where we always eat), and in addition to the Spanish Tapas bars and restaurants, there is also Malaga's very own "Cheers bar" Now that brings back memories of "Norm" "Sam Malone" "Diane" and of course my favourite "Frasier" what a great spin-off! Still viewable TV today! But not yet, there is more of Malaga to see, read on!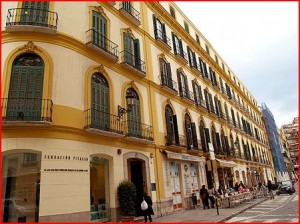 The picture on the left is that of "Pablo Picasso" personally not one of my favourite artists, as I think his art is an "Acquirable taste" (my son thinks he is cool) but he is famous and of course was born and lived in Malaga. The other picture to the right is his house, which is now an art exhibition of his life, and is a must visit and only a short walk through the back streets from the Cathedral. If this was a tourist attraction in the UK it would be £300 to get in!! but in Malaga it is €2 now that is value! I should know I was there last April, and it was well worth the visit, believe me it is beautiful inside!.
Another great invention of the Spanish is a fish restaurant called "El Tintero" which is right on the beach near El Palo, a spot very famous during the internal struggle of the Spanish people just prior to 1939 and the second world war, but I wont address that here, just the fact that this is the most fascinating restaurant I have been to in a long time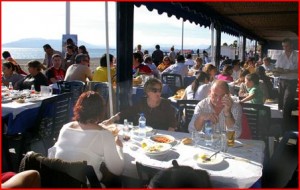 The restaurant is great, you turn up, sit down (get there early as this place is so popular at lunchtime, it is hard to get a table straight away) and simply put your hand in the air when a waiter comes past you with a plate of fish that you like the sound of. There is no ordering from a menu, and you get served as soon as you sit down. At the end of your meal you simply add up the plates you have had and pay per plate, simple!! A separate waiter will bring you your drinks once you have ordered them. It is quick, very tasty and very atmospheric, I would strongly suggest a visit here (unless of course you don't like fish) but they do serve chicken and chips as well if you have children!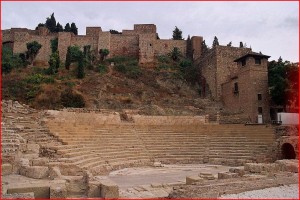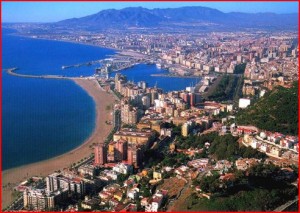 The picture on the left is the "Alcazaba" which is taken from the Arabic language "al-qasbah" which means citadel. (now I didnt know that until I started writing this article, now I know what the song means "rock the casbah") The Alcazaba was built around the 11th Century for King Badis from Granada, to serve as the palace for the governors of the city. It is the best preserved "Citadel" in the country, and next to the entrance are ruins of a Roman theatre which is currently being restored. The picture to the right is the view of Malaga from the citadel which is truly magnificent. I was there last year (2009) for my sons birthday, but sadly my wife was here on her birthday working. Sorry Karen I will take you there this year, promise! It only costs a few Euros to get in and wonder around, and there is a cafe inside the citadel area, but make sure you don't mind heights or walking up hill!
Puerto Banus
Many people would think that on a website about the southern coast of Spain and the Marbella region, Puerto Banus should actually feature higher on the page of "Places of local interest" Normally I would agree, but as we have lived in this region for over 8 years, there really are better places to visit when you go on holiday in Spain.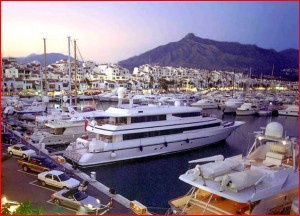 Puerto Banus is a place that you must visit at least once if you have never been there before, but considering it is full of very rich people doing what very rich people do (posing in expensive cars, eating and drinking) would you really want to go there every day during a 2 week holiday when the drinks and food are very expensive compared to the rest of southern Spain? perhaps not.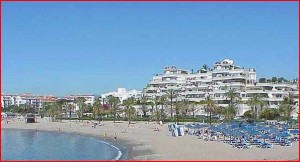 Puerto Banus has many bars and restaurants, but unless you are prepared to spend big on food and drink then stay away from this resort. I will give you an idea as to what you could expect to spend buying a round of drinks as in 2007 I bought 2 beers; a scotch and coke; and a glass of orange juice and that cost me €48! the town does have great atmosphere at night, and there are plenty of music bars for younger people, but I'm afraid it does get a bit tacky in the back streets at night, and if you go to Spain to experience a problematic Saturday night in any major British city, then this is definitely the place for you.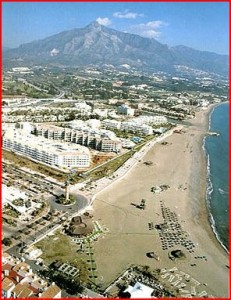 During the day, the resorts beaches are clean, and there are plenty of "Chiringuitos" (beach restaurants) where you can enjoy a nice lunch with the family. There is a market in the centre of the town, and lots of clothes and accessory shops to wander around. Puerto Banus even has its own "McDonalds" and a TGI Fridays restaurants. There is a lovely walk around the main harbour, where you can see millionaires boats from all over the world. There are tourist ferry services and sight seeing boat trips that leave from the main harbour, and will take you along the coast towards the golden mile and Marbella.People from all over the world visit Puerto Banus, from ordinary people who want to relax in the sun, or simply enjoy a cocktail by the sea, to millionaires who simply want a place to show off their yachts and enjoy a meal in one of the many quayside restaurants. It really is an eye opener of a resort.